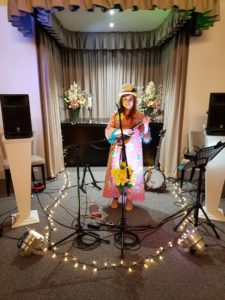 On May 14th 2018 we held a "Making Memories Concert" concert featuring Elfin Bow who gave an intimate musical concert launching Dying Matters awareness events in the local area.
The evening was a great success and thoroughly enjoyed by all who attended. Tea and cakes were provide by St Kentigern Hospice and a guided tour of the facility proved very popular.
---
"Elfin Bow's music has been described as a fairy tale experience; penning inspiring songs that bring to life stories, memories and characters from her childhood with life-affirming humour and honesty. With imagery that blends her twin passions of music and art, her songs and stage presence exude colour, charisma and a gentle charm. Described by Shindig Magazine as 'Lyrically astute, melodically inventive and in possession of pure singing tones, an album full of intimate homespun charm and mystery.' her self-titled debut album was launched last year with a live session on BBC Radio Wales and two sell out shows at Theatr Clwyd, Mold and the Epstein Theatre, Liverpool. It reached number 5 on the Radio Caroline Album Chart and 2018 promises to be even more eventful with the release of a double A-side vinyl single, recorded with a 24-piece string orchestra and the writing of a folk musical, Moth in the Wool.